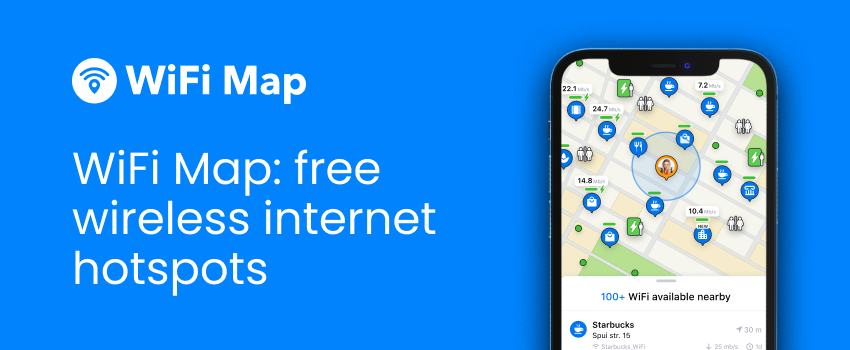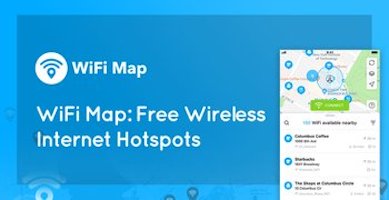 By: Adam West
Posted: September 24, 2020
Experts share their tips and advice on BadCredit.org, with the goal of helping subprime consumers. Our articles follow strict
editorial guidelines.
In a Nutshell: WiFi Map is a platform and app that enables users to find free wifi hotspots in their vicinity. All hotspots are crowdsourced by contributors, including other users and businesses that offer free internet access to the public. Consumers — especially those on prepaid or pay-as-you-go data plans — can use WiFi Map to save money, and those who contribute to the database earn points they can redeem within the app. By incentivizing open access to internet connections, WiFi Map ensures that everyone can enjoy free, fast internet access for work, education, and entertainment.
New York City is home to more than 12,000 free and openly accessible wifi hotspots. So, if someone in the Big Apple needs internet access quickly, chances are a connection is no more than a few blocks away.
But many people don't know how to find those connections — let alone the fastest or most reliable one. They could wander around trying to access whatever wifi networks they encounter along the way. But people can save themselves a lot of time — and money — by using WiFi Map instead.


"The entire premise of WiFi Map is to provide free and accessible internet to people worldwide and save them money," said Denis Sklyarov, WiFi Map CEO.
WiFi Map is a web and mobile app that provides users with information on free wireless internet connections in their area. Today, staying connected is crucial for those who need to learn, work, and contribute ideas to society.
"It kind of goes with Maslow's theory of the hierarchy of needs — food, shelter, and wifi," Sklyarov said with a laugh. "In today's world, we're completely tied."
In the modern world, internet connectivity can be essential for personal and social well-being. But just like food or housing, maintaining adequate internet access is often expensive and may cause consumers to incur superfluous debt. WiFi Map's purpose is to help its users avoid that unnecessary financial burden through free access.
"The more people who understand it and add known wifi locations, the more coverage our app provides, and the more people we can help," Sklyarov said.
Crowdsourcing Provides Wireless Internet Options
Essentially, the platform guides users to the nearest free wifi access point
"You open up the app and get a list of nearby wifi, or you can look at the map itself," Sklyarov said.
The app shows nearby hotspots, including the number of previous connections and the most recent connection date. Users can choose the one closest to them, or the one they think is most reliable.
"Our job is to give users as much information as possible so they can make an educated decision on which wifi they'd like to connect to," Sklyarov said.
WiFi Map is not an automatic connectivity tool. Some venues are password-protected, but those passwords are also listed on the platform.
That ease of use — not to mention the comprehensiveness of WiFi Map's database — is due to user contributions. WiFi Map is built on a sharing economy. Users who connect to a particular wifi network can add it to the database, and some users even add their home wifi and allow public access.
"They want to help," Sklyarov said. "They live in buildings, understand the importance of internet connectivity, and choose to share their own home location."
Users aren't the only contributors, though. WiFi Map welcomes ISPs, analytics companies, big brands, and small venues to submit hotspots for inclusion in the database.
"It's a win-win," Sklyarov said. "We get to provide our users with fresh, relevant data. At the same time, they get people to come to their venues."
Consumers Save Money by Conserving Data Plans
WiFi Map is especially useful for on-the-go device users, especially people on tablets or smartphones. Those devices have no ethernet ports for hardline connections, and so they rely exclusively on wifi for internet access.
The app is also useful for those who need to get around limitations on data plans. So-called unlimited data plans may even have limits, as once users hit a certain threshold, providers may throttle back bandwidth and slow browsing to a crawl.
"They give you the minimum ability and throw you back into 1999," Skylarov said.
Maintaining a fast connection is especially relevant for families since many children and teens are on their parents' data plans. Those in the younger generation may be engaged with high-data-volume apps and platforms, including YouTube and TikTok, not to mention online gaming.
And with widespread restrictions due to the COVID-19 pandemic, many young people are also engaged in online learning. Streaming lectures and seminars is necessary, but it can accrue not only student debt but also consumer debt as data rates and usage may run high. All that volume quickly adds up and can quickly exceed a data plan limit.
WiFi Map is also useful for those on prepaid or pay-as-you-go plans. Every bit of data used costs money, which can deplete bandwidth and bank accounts.
"Every dollar gets them closer and closer to the plan finishing out," Sklyarov said. "The more they use wifi, the less of that data they utilize."
WiFi Map can save travelers from paying exorbitant roaming charges when abroad, too. Whether traveling for business or pleasure, fees can become overwhelming. That can leave people with the choice of paying a high price or disconnecting completely.
"People get charged $150 or $200, and they don't even realize they were roaming," Sklyarov said. "Once again, WiFi Map can resolve this."
Contributors Can Earn Upgrades and Monetize Hotspots
WiFi Map's sharing economy is straightforward. Local users add hotspots and information, which keeps the network healthy and robust. And when they go to other areas and need internet access, they can access hotspots listed by other users. But WiFi Map also rewards contributors who add new locations and update information about existing hotspots.
"Each one of those actions gives you points within the app," Sklyarov said. "Those points also allow you to buy the Pro version of our app."
The Pro version of WiFi Map offers VPN protection to ensure security and anonymity through its network of more than 150 servers worldwide. Users can purchase a plan or earn enough points for a subscription through contributions to the database.
WiFi Map also plans to establish an equivalency between those points and digital currency. That will enable users to save money by accessing free wifi and provide wifi to others. Contributors who monetize their hotspots not only avoid consumer debt but also earn income by offering wifi access.
"If you left for three weeks on vacation and you'd like to monetize your wifi, you can switch on the button and set your price by saying, 'I want three points for three hours of using my wifi,'" Sklyarov said. "We're growing the demand side, and at one point, that demand side will have access to the internet in exchange for the points they've accumulated."
WiFi Map: Connecting Society through Accessible Internet
Revenue from WiFi Map Pro pays the company's bills and keeps the service up and running. These paid accounts help the platform add new features even as it helps its users avoid consumer debt. But the WiFi Map team isn't in it for profit.
"We haven't made $100 million on the app yet, but we've helped more than 100 million people with at least one connection," Sklyarov said. "I think the world will become a better place if more people have access to the internet because it equates to information and education. The more knowledgeable people are, the fewer wars we have, hopefully, and the less struggle people have in the world. We didn't wake up one day and said, 'OK, let's make $1 billion.' We want to make a difference."
WiFi Map's freemium model enables people in need to access wifi for work and education without the burden of paying exorbitant data rates. That alone attests to the company's interest in social good. But the WiFi Map team is anticipating — and even looking forward to — the day when people don't need its app.
"Hopefully, Elon Musk or Mark Zuckerberg will launch their satellites, and the whole planet will be covered," Sklyarov said. "But until then, WiFi Map is the solution."