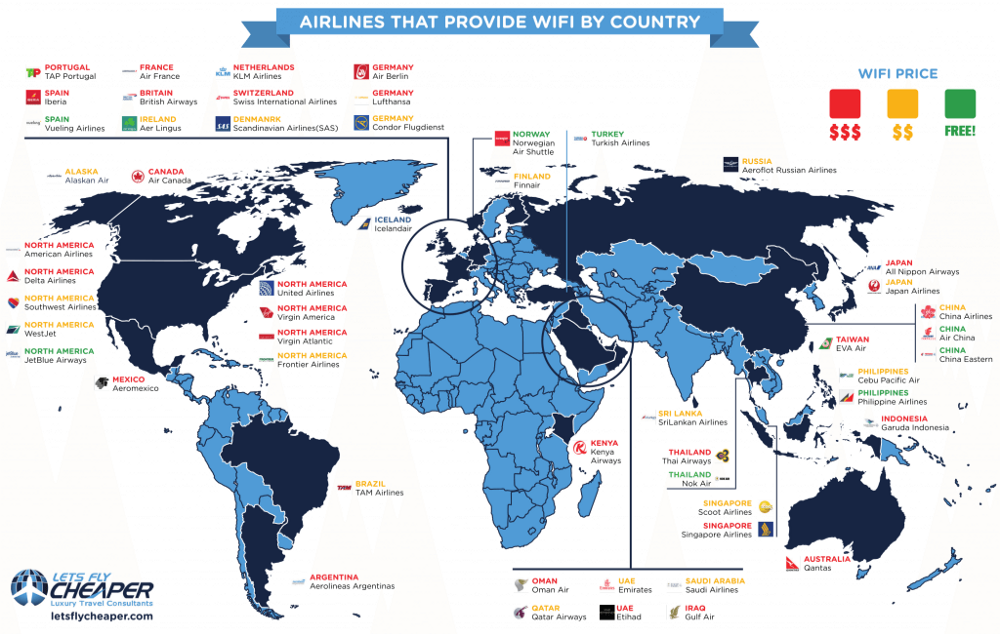 More and more airlines have started offering wi-fi on flights. While it usually will cost you a fee, it is still more accessible than ever before. Here are some of the airlines in the US with the best inflight wi-fi available:
Virgin America
Virgin America is one of the best airlines with wi-fi and offers wi-fi on 100% of flights. You can purchase wi-fi for $25 and enjoy speeds of 15 Mbps.
Jetblue
You can access wi-fi on 100% of Jetblue's flights, with slightly slower speeds of 12 MBps. However, the upside is that the wi-fi is free of cost which is a rarity when it comes to in-flight wifi.
Delta
Delta offers wi-fi on 98% of flights with the same speeds of 15 Mbps. You can save a little money on a Delta flight since the average cost is $16.
Southwest
Southwest offers wi-fi at the low cost of $8 available on 90% of flights, with speeds of 10 Mbps.
United
United has slightly lower speeds at 9.8 Mbps on 85% of flights. It is able to be purchased for $20.
American
American Airlines has inflight wi-fi on 80% of flights, at the same speed of 9.8 Mbps.
Alaska Airlines
Alaska Airlines has the lowest availability of wi-fi on this list at 75%. It does offer similar speeds to the others at 9.8 Mbps for $16.
How are we able to get inflight wi-fi?
Inflight wi-fi is made possible through similar means as wi-fi on the ground. Cellular radio networks and satellites are used to create connections at reasonable speeds. The top providers of inflight wi-fi are GoGo and ViaSat. According to TheDroidGuy, GoGo has a "51 percent market share in North America and contracts with 17 commercial airlines."
ViaSat came into the industry later and has since caused GoGo's stocks to fall by16%. Inflight wi-fi is expected to continue to increase in speeds and availability, with ViaSat planning to launch two additional satellites, which are expected to surpass the "1-terabit milestone and offer much faster download and upload speeds than any technology on the market."
For our international travelers, Routehappy also published a list earlier this year of the best inflight wi-fi worldwide. For those who travel for business, it might be worth checking on what kind of connection you can expect to see on your next flight.
Traveling? Download WiFi Map and contribute to our growing community!