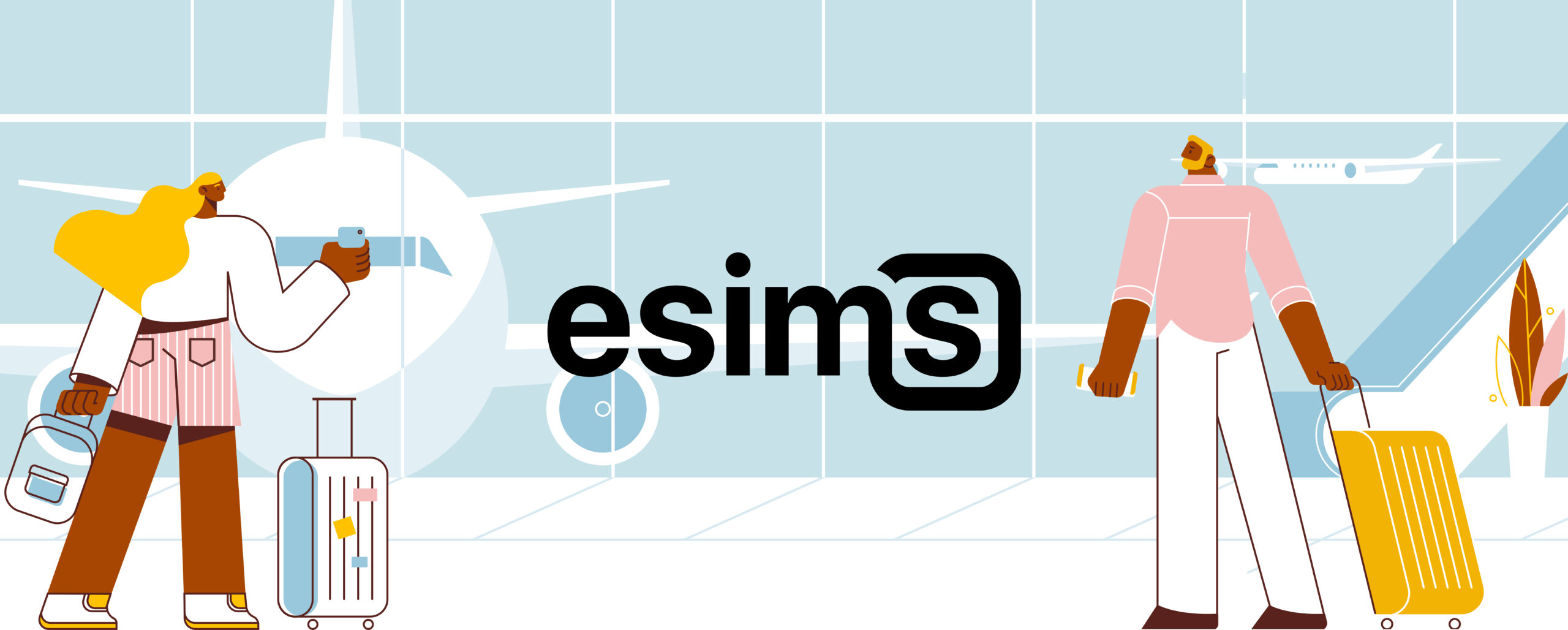 It's hard to imagine a world without the internet. Nowadays, even if we'd like to, it's almost impossible to escape the data world, and this is even more true for those of us who like to adventure across the globe. If you need to consult a map, you'll need a connection to see it. If you need to update your loved ones on your whereabouts, you'll need the internet to contact them. The demand for seamless, affordable connectivity is growing. It's not just about having fun – it's about being safe.
WiFi hotspots are great, providing stable, high-speed and secure internet which is usually free of charge. For digital nomads, it's often a good idea to supplement WiFi with a cellular connection for when you're on the move. The issue is that it can often be tricky to find mobile data solutions that don't cost a fortune. If you've ever been surprised with a terrifying number on your post-travel phone bill, you're not alone!
We've all been there. Luckily, there is an option that won't cost you the earth and won't steal your precious time. After all, the last thing you want is to waste your vacation hours standing in long queues to buy a SIM card at the airport.
Introducing eSIM. There are several advantages to using an eSIM over a physical SIM card. You don't have to worry about losing or damaging your SIM card since it's stored electronically. Additionally, eSIMs allow you to connect to multiple networks without carrying around several SIM cards, which is especially convenient for frequent travellers. Moreover, eSIMs are often cheaper than physical SIM cards, and setting up an eSIM is usually quicker and easier than getting a physical one.
If you looked them up online, you'd see that there are more and more eSIM providers appearing on the market. Navigating the many options can, however, be quite overwhelming.
This is where esims.io comes in. The online platform is a great tool to compare different eSIM plan options.
The story behind esims.io
Figuring out which eSIM best suits your needs can be tricky, especially if you've never used one before. esims.io is a tool that will help you in this process. The goal of the platform, created in 2021, is to help travellers and nomads find cost-effective solutions to remain connected while abroad.
The two founders behind the project – Valentin Maillot and Anes Djebbar – believe that eSIM technology will have a lasting impact on both travel and telecommunications, as well as on the data roaming industry.
As of 2023, esims.io covers more than 7,500 plans in 220+ countries and in all continents, from 28 different network providers.
The beauty of having an index that lists so many eSIM plans from different providers lies in the fact that you can find options for all budgets.
Different plans for different needs
All eSIM plans aren't equal. That's why before buying one, you should think about your needs. esims.io provides great features to help compare eSIM plans based on different factors:
Data quantity and networks. From 100MB to unlimited data plans, esims.io provides handy tools to sort and filter plans depending on how much data you need. For some plans, esims.io also gives you an idea of which local networks you'll be able to connect to and what type of connection standard you'll get.
Knowing which networks work for your eSIM is important, as in many situations you will be able to roam with multiple networks, allowing you to select whichever works best for you depending on your location.
Price, price/GB, currencies. Data plans can go from a few bucks (starting price – $3 on esims.io) for small plans to more than a hundred for large data plans. esims.io helps you not only filter and sort plans by price, but also compare what you get in terms of data for each plan by giving you a price per gigabyte ($/GB). Since plans come from different providers from different countries, this feature also helps convert everything into your preferred currency.

Validity period. All eSIM plans have a validity period, which determines how much time you'll have to use them. Some plans are valid for one day, while others can be used within 365+ days.
Phone number. An eSIM can serve for making calls and sending SMS messages (with an associated phone number), solely for data usage, or as a hybrid that supports both voice/SMS and data. However, most eSIM plans are data-only, which means they don't include a phone number.
Multi-country search. Another cool feature is esims.io's ability to offer multi-country search, meaning you can search for an eSIM that will be compatible for the different countries you will be visiting.
How you can use both WiFi and an eSIM for better connectivity
The combination of WiFi and eSIM technology has great potential for enhancing the experience of travel and digital nomadism.
By using an app like WiFi Map alongside a prepaid eSIM plan, adventurers and digital nomads can enjoy the best of both worlds.
WiFi Map allows users to easily locate and connect to available WiFi networks, reducing reliance on mobile data and saving costs. This is especially alluring in areas with limited or expensive data options. Meanwhile, the company's own prepaid eSIM plan ensures reliable mobile connectivity when WiFi is not accessible.
A trip abroad can perfectly blend WiFi usage with a prepaid eSIM data plan so you can enjoy the best of connectivity and cost efficiency.
Here's our recommendation for a one-week fictional trip:
Pre-flight preparation: Prior to setting off, purchase a prepaid eSIM plan after comparing options on esims.io.

Opt for a package with around 5–10 GB of data. This purchase will enable immediate connectivity upon landing: no more searching for an airport WiFi network or enduring slow loading speeds.
Touch down and connect: As soon as you step off the plane, your eSIM enters into action. Fire up your mobile data to check your messages, confirm your accommodation, or hail a ride from the airport.

Exploring your new city: Once settled in, switch to WiFi for casual browsing and data-heavy activities like streaming and downloading. WiFi Map can be a valuable tool, as it will guide you to the nearest hotspots.

In transit: When you're commuting or away from secure WiFi connections, switch back on your eSIM for reliable internet access. Your eSIM ensures an uninterrupted online presence even when WiFi networks aren't available.

Sensitive data handling: In instances where you're handling sensitive information, especially while using public WiFi networks, ensure you're connected via a VPN for added security. Alternatively, using your eSIM data plan is a safer choice as mobile data is typically more secure than public WiFi.

Staying reachable: Keep your primary phone line (from your home country) active for voice calls but disable data roaming to avoid unnecessary charges. Your eSIM will handle all your mobile data needs. Don't make calls or send SMS messages (receiving is normally free), as this is usually expensive too. We recommend using a messenger app like WhatsApp or Telegram.

Hotspot for security: Use your eSIM to create a hotspot when dealing with sensitive data. This additional layer of security ensures your private information stays private.

As you can see, this seamless blend of WiFi and eSIM usage empowers you to maintain a robust digital presence throughout the course of your travels, ensuring you remain connected, secure, and cost-efficient.
Endnotes
As you can see, WiFi and eSIM complement each other. Using WiFi for simple tasks, you can save your eSIM data for more important activities or when a public connection isn't available.
So, say goodbye to expensive post-travel phone bills. By using WiFi alongside an eSIM, you can save money and enjoy more freedom and flexibility. Visit esims.io, your gateway to comparing and acquiring the perfect eSIM for your digital journey, and check out WiFi Map for more information about the best free networks available. Staying connected has never been easier!