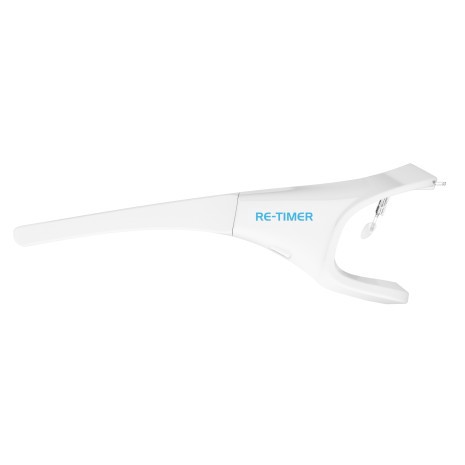 Take your travel game to the next level with these unusual, unnecessary and super fun gadgets!
Fight Jetlag with the Re-Timer
Suffer from jetlag after long haul flights? This product might just be able to make you feel human again. Re-Timer are goggles that use light therapy to help adjust your internal clock back to a normal sleep schedule. Light therapy is described as "exposure to specific wavelengths of light for a prescribed amount of time at a specific time of day."
It's no shock that flying is not the most comfortable experience. Sleepy Ride designed this airplane foot rest to help you fly in comfort. The product is said to improve circulation and prevent swelling and soreness.
For the boujee and impractical traveler, you may just fall in love with this travel planetarium. Take it along on your travels to enjoy the night sky from the comfort of your hotel bed.
Security is always a concern when traveling, so enjoy some piece of mind with this mobile alert product. You simply attach the product to your phone, camera, or anything else you'd like to keep secure. If someone tries to steal it, the pull pin will be triggered and a loud alarm will sound to notify you.
Avoid Luggage Fees with Jaktogo
While this may not be the most fashionable travel gear, the Jaktogo can save you big money on luggage fees. With 14 various sized pockets, you can wear your excess items instead of paying for an extra bag or for an overweight suitcase.
Take Your Desk on the Road with the Nomad Suitcase
This suitcase takes digital nomad to a whole new level. The Nomad Suitcase includes a fold out table and chair, so you can literally work from anywhere. When you're done you can just fold it up and roll your suitcase to your next destination.
For the true backpacker, the Pocket Shower might just be a lifesaver. Stay fresh and clean on your travels by carrying this little gadget with you. It can hold up to 10L of water and the twist spout allows you to adjust the flow depending on just how filthy you are. Simply hang the Pocket Shower using the included cord and you are good to go.
Sleep Anywhere with SelkBag
Another very fashionable product is the SelkBag wearable sleeping bag. The SelkBag is made to move with you in the night so you sleep comfortably and wake up feeling well rested. It also comes with pouches for storage, ventilation zips and removable booties.
Traveling? Download Wifi Map and contribute to our growing community!